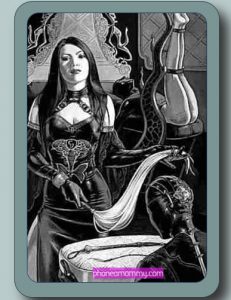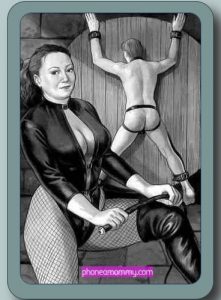 I had a live-in submissive who resided with me for many years until one day he had a mental breakdown of sorts and decided to rummage through my property, steal my cards and perform theft.  Once it was discovered that it was him, I took my time to torture him in my dungeon before I chose to dismiss him. He was taught the lessons that he needed to move on and he was checked directly into the Mental Ward at the adjacent county in my town.
It was at this point that a new submissive from phone sex central found me and decided that he needed a dommy mommy and that it was me, as I am a woman who loves to be on top. Initially he felt that he would need some time to process everything and decide if this was the lifestyle that was for him and he felt he may need space to figure things out. 
I told him that he won't need space to be himself because I am affording him the opportunity to let go and trust. I immediately started with an exercise in instruction spear headed by flogging. I was going to start flogging his ass and I told him that if he fucks up the count he would have to endure it all from the beginning.
He was naked with his cock and balls exposed and he was told to get on his hands and knees.  He was to count from one to 50 after each flogging and he was to say, "Thanks Mistress Scarlet, may I please have another," and he was going quite well until he fucked up the count at 15. I told him in a calm yet stern manner, "You have fucked up the count when I flogged your ass so we are going to have to redo this all from the beginning."
He gasped and begged for me to please soak his ass in some cold compression but I told him that I would rather have it blister and bleed.  His eyes opened up so wide as he could not believe what he just heard and it occurred to me that he may have questioned the well-being of his ass, but this was well deserved so he accepted that he was not going to be handled in a soothing manner.  Each flog and re-count was carefully administered and time he made it all the way to 50 with no issues. 
I straddled over him with my crotchless latex outfit and told him that I have a hot and salty surprise for him and I pissed all over his bruised, battered and flogged ass pegs.  I laughed as I teased him and called him a spineless and useless fuck and this is why I enjoy playing with him so much.
I told him that not only will he be my submissive but he will also be my adopted abdl son an
d I will utilize all means for us to play. We would therefore regularly engage in incest phone sex and at my lead he will get hard when we talk on the femphone.  If I don't deem it necessary, his needle dick will remain dead and useless for the day. 
1-888-430-2010
Click Here to chat with a phone sex mommy!
#abdl #incestchat #abdlmommy #ageplay #domination #abdlroleplay#adultbaby #dominantmommy  #phoneamommy #phonesex #dommymommy
---