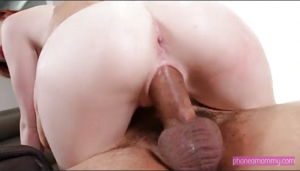 Gerald jerked up from the couch when he heard a car door slam outside in the driveway, knowing that it had to be his wife back from the bar. A low male voice drifted through the open window, followed by Brenda's giggle. He just stood there as they walked up to the front door, watching as they stepped inside, Brenda draped over the new guy so tightly that they were stumbling more than anything else. The man looked up first, giving Gerald a searching glance up and down. "You must be the husband. Can't say I understand why you want to watch me fuck your wife," he reached down and grabbed a firm handful of Brenda's ass, causing her to squeal, "But I won't complain about getting to fuck your lovely wife." Gerald didn't understand it either, why he got so turned on from being a cuckold, but with the way his cock started to get hard from just watching his wife getting picked up to wrap her legs around the newest dick, he couldn't deny it.
He followed them to the bedroom, sitting down in the chair that he already had next to the bed. They pulled and jerked each other clothes off, falling naked to the bed with their hands all over their bodies. He didn't know how Brenda always managed to find the guys with big dicks (maybe asked for a peek before they left the bar) but she always did, making his already tiny dick look even smaller. The humiliation of watching his wife getting pounded and stretched open wide around a thick cock should be shriveling his mini dick right up, but it just made it harder! And this guy was fucking her good tonight. On her back with the legs over his shoulders, on her knees and elbows with her face planted into the mattress, riding and bouncing on that giant cock while she was on top, he was giving her just what she needed to make her scream as she came squeezing around him.
After he came inside her three or four times, he stood up, smacked her ass one last time, and left after sending a wick Gerald's way.  Brenda looked rung out but happy, which would happen after a few hours of great sex like that.  He laid a hand on her foot, just a reminder that he was still there, and she looked at him with a tired smile. She didn't even say anything, just waved her hands toward her crotch and spread her legs. Gerald didn't waste a second hopping onto the bed to slip between her thighs, spreading her pussy lips apart to see the thick creampie that was slowly leaking out of her pussy. He couldn't hold back a low moan at the sight and dipped his head down to lick it all clean. He sucked and licked and even used his fingers to scoop every bit of cum out her, it all tasted so good! The other guy lasted hours, but it didn't take more than a few minutes of humping against the bed before Gerald was coming hard. Would you like to be humiliated just like Gerald? Call me for some femdom phone sex and tell me how much!
Naughty Brenda
1-888-430-2010
Click Here to chat with a kinky phone sex lady!
#cuckold #tinydick #cuckoldkink #humiliation #phonesex
---